MY DEBUT ALBUM IS NOW AVAILABLE ON AMAZON.
Album of the Week on Q2!

Los Angeles Times: Yotam Haber: Faces to Watch 2014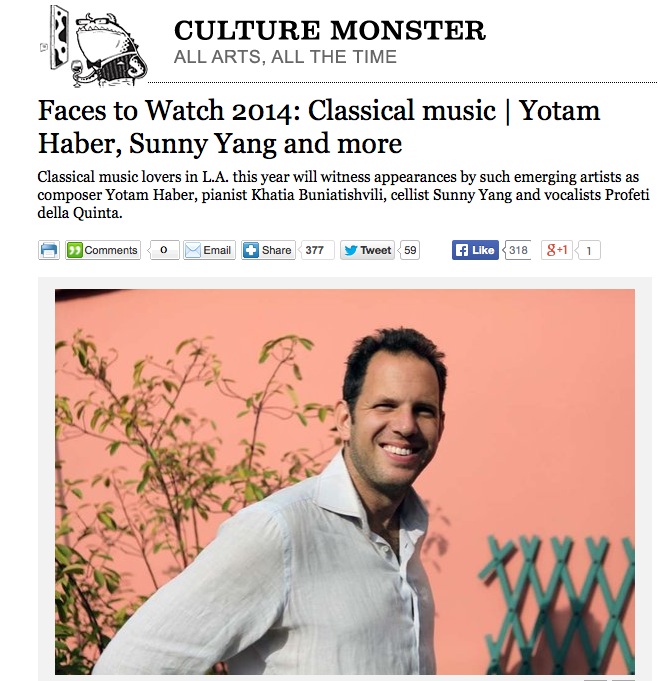 January 25 and 26: 2014 West Coast premiere of A More Convenient Season at REDCAT/Disney Hall, Los Angeles
For more information, click here.
2012 Venice Biennale interview
Hailed by New Yorker critic Alex Ross as "deeply haunting," and chosen as one of the 30 composers under 40 by Orpheus Chamber Orchestra's Project 440, Yotam Haber, was born in Holland and grew up in Israel, Nigeria, and Milwaukee. Haber received the 2007-2008 Frederic A. Juilliard/Walter Damrosch Rome Prize and resided at the American Academy in Rome for a year beginning in September 2007. He was the recipient of the  2005 Guggenheim, and commissioned by Pritzker Prize winning architect Peter Zumthor. He has received recent commissions from the Alabama Symphony, the American Composers Forum and the Jerome Composers Commissioning Program, Meet the Composer, and the Harvard Fromm Foundation.
He received a 2002 ASCAP Foundation Morton Gould Award for his chamber orchestra work, In Sleep a King, and another one in 2004 for his double clarinet quintet, Blur. In 2004, he also won the second bi-annual ASCAP/CBDNA Frederick Fennell Prize for the wind ensemble work, Espresso, which was performed at Carnegie Hall by Rutgers Wind Ensemble, directed by William Berz, and consequently recorded for release in the fall of 2006.
He has been a Fellow at the Tanglewood Music Center (studying with George Benjamin and Osvaldo Golijov), the Aspen Music Festival (studies with Chris Rouse and Nicholas Maw), and been in residence at the Hermitage, the Aaron Copland House, the Atlantic Center for the Arts, Yaddo, and the Macdowell Colony (where he was the recipient of the first ASCAP Foundation Composer Fellowship); and has won fellowships to the Bellagio Rockefeller Foundation, Bogliasco and IRCAM. His music has been performed in Germany, Italy, Holland, and across the U.S.
Recent commissions include works for  The Louisiana Philharmonic Orchestra; New York-based Contemporaneous, Gabriel Kahane, Alarm Will Sound; the 2015 New York Philharmonic CONTACT! Series; the 2012 & 2014 Venice Biennale; 2012 Bang on a Can Summer Festival; the Neuvocalsolisten Stuttgart and ensemble l'arsenale; FLUX Quartet, JACK Quartet, Cantori New York, the Tel Aviv-based Meitar Ensemble, and the Berlin-based Quartet New Generation.
From 2010-2014, Haber served as Artistic Director of MATA, the non-profit organization, founded in 1996 by Philip Glass, Lisa Bielawa, and Eleonor Sandresky, dedicated to commissioning and presenting new works by young composers from around the world.
2014 featured exciting projects including the West Coast premiere of A more Convenient Season, a 70′ work for the Alabama Symphony;  The Voice Imitator, a collaboration with visual artist and MacArthur Fellow Anna Schuleit.
He is currently working on Voice Imitator, an evening-length cycle of piano works with visual artist and MacArthur Fellow Anna Schuleit Haber, based on the stories of Thomas Bernhard; New Water Music, an interactive work (premiering 2017) for the Louisiana Philharmonic and community musicians to be performed from boats and barges along Bayou St. John in New Orleans; and recently completed break_break_break, for the Kronos Quartet (premiering April 2, 2016, Carnegie Hall).
EDUCATION
After attending Indiana University, studying with Eugene O'Brien and Claude Baker, he completed a doctorate in composition at Cornell University in 2004, under Roberto Sierra and Steven Stucky. He spent 2000 in Bologna, Italy, as part of the Course on Use of Live Electronics, taught by Alvise Vidolin (Luigi Nono's sound engineer) and the composer Adriano Guarnieri.