PRESS
---
---
---
https://blogcritics.org/concert-review-nyc-talea-ensemble-performs-u-s-premieres-of-azrieli-music-prize-winners/
Review of 10/16/21 Talea US premiere of Estro Poetico-armonico III
---
BBC 4 Broadcasting House interview with Paddy O'Connell March 17, 2019
(last 8 minutes )
A pianist/composer's dream of dog-sledding in Alaska came true. It ended with a severed finger.
---
Washington Post, Ann Midgette 3/11/19
Composer Yotam Haber speaks with WUWM Lake Effect's Maayan Silver about the world premiere of his modern concerto "The Little Bird" at his alma mater, Nicolet High School.
https://cpa.ds.npr.org/wuwm/audio/2018/11/1129c.mp3
Current Nicolet High School students are getting a musical education from those who came before them.
This week, 2004 alumna violinist Hanna Hurwitz came back to the school to be part of the music department's Artist in Residence Program. She's mentoring the school orchestra in preparation for Thursday night's world premiere of a new modern concerto called The Little Bird.
It's composed by alumnus Yotam Haber who's assistant professor of composition at the University of New Orleans. He graduated from Nicolet in 1994.
"When I was in high school, I didn't even know that composers still existed," he says. "I thought they were a breed that had died in the 19th century."
He was exposed to contemporary music through an art teacher at Nicolet and realized that living composers did exist and that composition was something he wanted to do.
"I think [music study and appreciation] enriches us, makes us better people no matter what field we go into," he says.
"It is no small thing that Nicolet commissioned this work, and shows a great, great commitment to contemporary music, something that we barely see in schools, even regular old music, we see so few programs," says Haber. "The fact that Nicolet is not only committed to music but to bringing contemporary music to light is incredible."
---
NPR Inside the Arts interview
May 8, 2018 click here
---
Venice Biennale 2012 interview
A More Convenient Season 2013 interview
---
---
Los Angeles Times: Yotam Haber: Faces to Watch 2014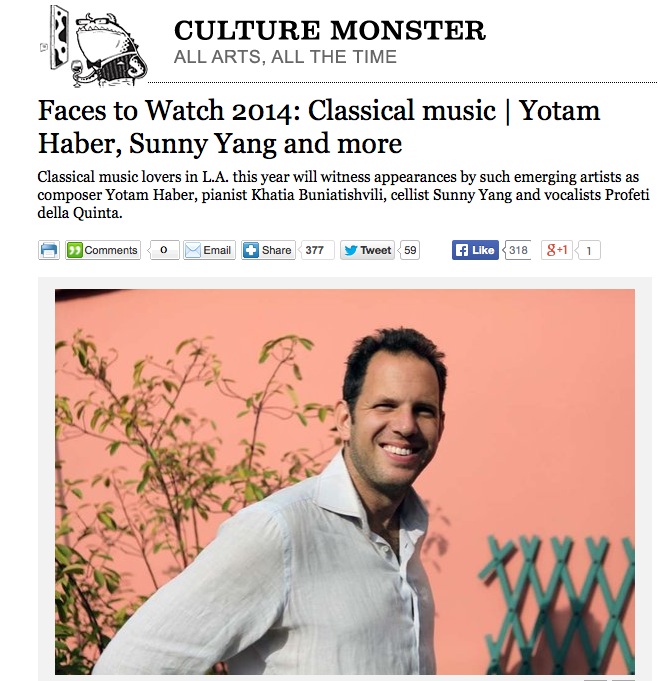 www.bestofneworleans.com Gambit (3/27/17):
---
Water world: New Water Music sends an orchestra to sea
Composer Yotam Haber and New Orleans Airlift join the LPO on Lake Pontchartrain
"Do you mind if I hit this?" Yotam Haber picks up a scythe-shaped strip of rusted metal, approaches a buoy and taps its side, which burps out a dull thud. He shakes his head. "Not really what I was looking for." He taps another buoy, and it sings a deep but short gong. He smiles.
Giant-sized, globe-shaped buoys — speckled with barnacles and rust and tied with tires and chains — populate a sprawling shipyard at DCL Mooring and Rigging on the edge of the Industrial Canal like Pee-wee's Playhouse-sized fishing bobbles. They're set decoration for Haber's New Water Music, a piece the composer designed for a massive assembly of musicians on Lake Pontchartrain. The performance, organized by New Orleans Airlift, includes the Louisiana Philharmonic Orchestra, shrimp boats and a cast of artists and makers spanning fishing communities and amateur musicians. It runs April 8 at Seabrook Boat Launch. If the concert is rained out, there will be a performance April 9.
full article here
---
Washington Post review (3/5/17) of From the Book world premiere with Kronos Quartet:
The Kronos Quartet is at it again, committing acts of imaginative generosity in support of creativity. Having commissioned more than 800 new works of music over 40-plus years in action, it now has embarked on a program called Fifty for the Future, a commitment to commission 50 pieces over the next five years, geared to the training of students and young professionals.
Two of these pieces were on display in a Washington Performing Arts-sponsored program at Sixth and I on Saturday — "Hilathi," by the young Polish composer Aleksander Kosciow, and the world premiere of "From the Book," by the Dutch-Israeli composer Yotam Haber. Both performances were careful and committed, the quiet, hymn-like simplicity of "Hilathi" handled with warm, balanced restraint and the more extroverted intensity of Haber's settings of melodies from Jewish liturgy given a lively sense of shape and rhythm and freedom.
full review here
---
La Repubblica article (11/15/2016) about New Ghetto Songs:
Raiz, il Ghetto tra tradizione e modernità: "Il mio canto contro tutti gli integralismi"
Full article here
---
Torus by Yotam Haber: Adventurous and Eclectic Sounds
As music enthusiasts, every once in awhile we need an album that challenges our perception of contemporary music. Amidst the popular theme of ethereal zen-like music comes this album from the lauded Yotam Haber. This composer is making real waves in the contemporary classical music world, named by the LA Times as one of 2014's "Faces to Watch," and has received accolades, grants, and press from across the globe. Torus, named for the geometrical shape which matches a donut or a tire, is an experience in cyclisicm and demands to be listened to from beginning to end with no distraction. While a great deal of music in media has faded to be nothing more than ornamental embellishments for visual material, this album requires your full attention, and it wont be denied. It's an album that must be approached with resolve and a willingness to go on an emotional and heartwrenching journey that won't be paralleled.
From the opening of We Were All, the music recalls elements of Ligeti and John Adams with its encompassing orchestrations that adventurously match a counter-tenor voice with muted trumpets and pitched percussion. Haber is known for choosing text based on the sound rather than the content, and this is no exception. The text, written by gifted poet Andrea Cohen, illustrates a feeling of discovering acceptance in not getting what you want. There's an interesting parallel with this text, joining disappointment about lost cherries and the disappointment over other losses in life: careers, family, or opportunities.
On Leaving Brooklyn perfectly encompasses the bittersweet reality of leaving a place behind. The text, written by Julia Kasdorf, pulls on the heartstrings and reminds the listener what Home felt like. The sliding, hollow melodies and polyphonic rhythms give rise to a feeling of unfamiliarity and strangeness, exactly how one feels when trying to settle somewhere new. The soloist, Mireille Asselin, floats above it all with a yearning desperation to forget what she once knew to find happiness in a new land.
The next piece on the album, Last Skin, is divided between 2 tracks. Using scordatura (detuned strings), Haber creates a musical landscape of 16 open pitches, which lends an expressive and haunting timbre to the music. This piece invokes an element of cyclicism as it rediscovers musical content from We Were All. This piece was composed as a commission for a friend's parent who had passed, and it examines the different ways that people grieve. The first half delves into the chaotic anger that we feel when we've lost someone we love, and takes the listener on a journey of loud, unsustainable anguish, the kind that is all-encompassing and destructive. This piece demands attention and thought, ripping away any illusions of hope and reconciliation. Along the seven stages of grief, this half of Last Skin travels through denial, guilt, and anger or bargaining. The second half of the piece focuses on painful reflection and the numb acceptance that accompanies it. Haber lets the open strings play to their strengths, creating chilling and painstakingly hollow melodies that echo the feeling of loss. Together, both halves of Last Skin travel through the emotions of loss and grief, examining both ends of the emotional spectrum: anger, and numb reflection.
The title work, Torus, is expertly performed by the Mivos Quartet. Composed to reflect the huge, intimidating sculptures of Richard Serra, the performers use filters to affect their sound in real time. This piece is threatening and frightening, scaling from a breakneck pace in the beginning to a rumbling creep at the final note. Torus was not written to be sidelined by visual media, it was written to be an all-encompassing aural experience that's like an assault on the senses. From the Book of Maintenance and Sustenance is the next in Haber's series of pieces that are born from Italian Jewish archival recordings. This piece invokes an Italian Jewish liturgical melody, a plaintive and calming eight minutes that rounds out the emotional roller coaster of Torus. In the end, it's the peace that we crave after the loss, the panic, and the chaos of life; it's a fitting end to this exhausting album.
This is the music that people think of when they hear "contemporary classical music." It's a demanding, full-throttle musical experience that's not for the faint of heart. It demands attention and an openness to emotion, and it doesn't take no for an answer. Yotam Haber composed a collection of chamber pieces that fit together like the pieces of a puzzle– each piece is interesting on its own, but together they make a mural of the mind.
Angelina Panozzo, Icareifyoulisten.com, 10/30/15
---
El final va estar una cirereta que ornamenta un fantàstic pastís sonor, Torus de Yotam Haber és una enèrgica, trepidant i sensacional peça extremadament exigent amb els mecanismes de les dinàmiques sobtades, amb uns canvis bruscos de sonoritats que el quartet dominava sobradament, amb uns detalls en pianíssim que eren impossibles d'oir per l'acústica de la plaça i per la tos pneumònica, una obra que combina textures a través de les tècniques esteses i sons convencionals….
Sixto Ferrero, La Veu July 24 2015
---
The first track of Yotam Haber's debut album, "Torus" opens with pointillistic vocal deconstructions of the phrase "We were all hungry." A work for voice and chamber ensemble set to a poem of the same title by Andrea Cohen, We Were All describes blackbirds raiding a cherry tree, depleting the fruit before the poem's protagonist is able to get any for her own bowl.
While the poem is a response to Cohen's mother's death, Haber's music is as much a fragmented, fluttering take on the literal narrative. Mallets and pizzicato strings recall the beating of wings. Soprano and countertenor move between long phrases and antiphonal, bird-like calls. Performed with poignant energy by New York's chamber orchestra Contemporaneous, it's playful and uneven – more a celebration of life than a mourning of death. Indeed, the bulk of this chamber-music collection concentrates on periods of flux: the transition of life to death, the migration of peoples, art in motion.
On Leaving Brooklyn re-arranges American poet Julia Kasdorf's "After Psalm 137." A haunting weave of of vocals and single violin, the work mirrors not only the Hebrew bible (here describing the sadness of Jewish people in exile following the Babylonian conquest of Jerusalem) but Haber's own migration: he was born in the Netherlands, grew up in Israel, Nigeria and Milwaukee, lived in New York City, where he served as artistic director of the annual MATA Festival, and is currently on faculty at the University of New Orleans.
The collection's most visceral moments, are when the [instrumental] music speaks for itself. Last Skin moves between moments of tremoloed stasis and violent swoops. Split into two "emotional states" and performed on 8 individually-tuned microtonal violins, Haber sites the music's inspiration as the Baroque doctrine of the affections, a 17th and 18th century theory proposing that certain musical devices can evoke very specific, involuntary emotional responses in the listener. The title track Torus feeds the elastic Mivos Quartet through filters to conjure the frightening beauty of artist Richard Serra's massive metal sculptures. The distorted strings spin around one another at extremes of volume and speed.
"Torus" closes with the quietly spiritual and luminous From the Book of Maintenance and Sustenance for violist Max Mandel and pianist Eric Huebner. Using archival recordings of music from the Italian Jewish community, the music moves from screaming harmonics to quiet passages reminiscent of plainchant. It's a snapshot of a soul in flux – moving from life to the afterlife, from Israel to New Orleans – a composer looking for a sound and finding something powerful along the way.
Hannis Brown, Q2 Music 4/27/15
[…]
---
Furthermore, this wasn't just any orchestra. It was Contemporaneous, the premier orchestra dedicated to promoting and performing new music. As I arrived they were finishing rehearsing a piece by Thomas Adès and Haber's piece was ready to be recorded.
Haber, in addition to numerous awards and commissions, was for some years the Artistic Director of MATA, the organization founded by Philip Glass and others to commission and present new works. His music, based loosely on a minimalist style, is hauntingly beautiful and seductively hypnotic. The piece I heard, "We Were All," had all the Haber trademarks I love: the melodic loops of phrases, the sensual tonalities and the completely original harmonic language. Based on "Cherries," a poem by Andrea Cohen, the piece started with three singers singing separate, staccato syllables in a quasi-baroque style; these syllabic organisms then cautiously migrated into the orchestra, instrument by instrument, until a great crescendo heralded the climax, the entire orchestra elaborating on the tiny phrases, timpani's banging, trumpets blaring, followed by a gradual decrescendo as the syllabic phrases dissipated to their original state. It was a gorgeous, explosive piece: the creation of the universe, if you will, in less than fifteen minutes.
One incredibly important feature of Haber's music, to me anyway, is his sensitivity to the audience. His music always sounds fresh and cutting edge, but the audience is inevitably seduced as opposed to being bewildered or worse, indifferent. […]
Glen Roven, Huffington Post 12/29/2014
---
In Torus (2012), Yotam Haber—MATA's outgoing artistic director—set himself not one challenge, but two: the iconic string quartet form as his musical palette and, as his subject, the sculptures of Richard Serra. Haber's work, no simple mimicry of the monumental, expressed the multiplicity of perspectives encountering a Serra sculpture entails. In another vital, accomplished performance from Mivos, the abrasiveness of rusted metal on the sculptures' surface came into view. Opening with frenetic ensemble playing, the music continually shifted, evoking disoriented terror as it felt its way along inner curves in search of outer light. Silences figured as hesitations, as if the piece itself was uncertain how to proceed. Only at the end, in a flurry of quiet notes, was the whole revealed. This was music that not only existed as a finished work, but also performed the act of its creation. With sound alone, Haber taught us how to see.
Susan Scheid, The Brooklyn Rail 6/5/14
---
Yotam Haber's alluring "From the Book of Maintenance and Sustenance" also proved engaging. Mr. Haber used the soulful lower register of the viola to expressive effect, and its higher register to create intriguing timbres. Fluttering trills unfolded over lone piano notes; bell-like descending piano chords were echoed by gently ascending viola motifs. The piece faded to an enigmatic whisper at the end.
New York Times Vivien Schweitzer 5/30/2014
---
"With "A More Convenient Season," Yotam Haber has not only composed a monument to Birmingham's civil rights legacy. He has made an important contribution to a larger body of works that focus on historic world events."
Michael Huebner, Birmingham News 2013 September
---
"Questa musicalità totale trova piena espressione in "Sul tasto" a partire da "sTudy#2" di Yotam Haber per 4 fisarmoniche o 1 fisarmonica e 3 registrate. Si tratta di cascate sonore di gran efficacia, quasi ipnotismo virtuosistico che presenta subito uno degli aspetti più noti dello strumento anche se in modo assai originale."
CONTRAPPUNTI 34
Marco Maria Tosolini, 7/24/13
---
"There are moments of the piece that are eerie and haunting, moments that are elegiac and beautiful, and even moments that are plain scary."
SybariticSinger, 7/30/12
---
http://sybariticsinger.wordpress.com/2012/07/30/composerpieces/
"In what is probably the most affecting and powerful piece, On Leaving Brooklyn, Yotam Haber uses four voices deployed chorally, accompanied by violin. Its minimalist-inflected harmonic stasis, a poignant balance of the acerbic and sweet, and its fragile, intricate textures beautifully convey the yearning of Julia Kasdorf's reimagining of Psalm 137's lament for Jerusalem."
All Music, 5/1/12
http://www.allmusic.com/album/five-borough-songbook-mw0002315202
"[The MATA Festival was] imaginatively curated by directors Yotam Haber and David T. Little"
MusicWeb International, 4/25/12
http://www.seenandheard-international.com/2012/04/25/sculptural-experiments-at-the-mata-festival/
"[The programming of the 2012 MATA Festival was] a testament to MATA's enduring mission and to the high standards maintained by its current directors, David T. Little and Yotam Haber"
New York Times, 4/23/12
http://www.nytimes.com/2012/04/23/arts/music/mata-festival-at-roulette-in-brooklyn.html
"In Mr. Haber's deconstruction the melody is heard throughout the piece but is wrapped in a cloak of contemporary bursts of harmony and dissonance from the recorders and strings."
New York Times, 4/20/12
http://www.nytimes.com/2012/04/20/arts/music/mata-festival-with-quartet-new-generation-and-jack-quartet.html
"The gorgeous final piece of the evening, "Estro poetico-armonico," was written by MATA's Artistic Director Yotam Haber for JACK and QNG to play together. Like the evening's opening video, Haber's piece cleverly transforms a musical work from a previous century—in this case, Baroque-era composer Benedetto Marcello's setting of a psalm, itself based on transcriptions of Venetian synagogue music. In "Estro," the lovely, spacious counterpoint of the psalm setting is passed among the various performers of the ensemble while the other instruments betray its calm beauty with muddling gestures: skittering or fluttering on pitch, bending out of tune, or sounding seemingly random notes out of turn. In his program note, Haber asks listeners to visualize a still-wet oil painting left out in the rain so that its colors run, an apropos image."
Capital New York, 4/20/12
http://www.capitalnewyork.com/article/culture/2012/04/5743550/years-mata-festival-young-composers-surprises-unusual-instruments-an
"The concert ended with both ensembles joining forces for a mutual commission, Yotam Haber's Estro Poetico-Armonico. The Vivaldi allusion came through vividly: Haber based this on Benedetto Marcello's final transcription of a series of psalms sung in a baroque-era Venetian synagogue. Through a glass darkly, it fluttered, microtonal curliques rising, obscuring and then backing away, elegantly ceding centerstage to the stately, wary, old-world stained-glass ambience."
Lucid Culture, 4/19/12
http://lucidculture.wordpress.com/2012/04/19/
"There is, to the pulsing rhythms and emotionally distant chant-like singing, something reminiscent of Steve Reich… especially his wonderful Tehilim. Distinguishing Haber's piece is a daring sparseness."
Disquiet, 2/19/12
http://disquiet.com/2012/02/09/alarm-will-sound-yotam-haber/
"Yotam Haber set a poem by Julia Kasdorf which is based on Psalm 137 in his song "On Leaving Brooklyn.""
Leonard Link, 1/27/12
http://newyorklawschool.typepad.com/leonardlink/2012/01/the-five-borough-songbook-the-show-and-the-recording.html?utm_source=feedburner&utm_medium=feed&utm_campaign=Feed%3A+LeonardLink+(Leonard+Link)
"Yotam Haber's exquisite setting of "On Leaving Brooklyn" made the very syllables of Julia Kasdorf's revision of Psalm 137 into musical tones, "borough" and "Babylon" and "Jerusalem" becoming harmonized values and nostalgic wisps of melody."
Opera Today, 1/23/12
http://www.operatoday.com/content/2012/01/five_boroughs_s.php
"Haunting" "Mr. Haber's work was the program's most experimental piece"
New York Times, 1/16/12
http://www.nytimes.com/2012/01/16/arts/music/in-five-borough-songbook-20-composers-show-ny-review.html
"One of the highlights from that afternoon was a piece by Yotam Haber titled I Am, written for mixed choir and string quartet. The text, taken from the writings of Agni Yoga, a branch of Buddhist Yoga founded in New York in 1920, is based on short phrases that could be thought of as seven individual mantras. The rhythmic and pulsating piece repeated the title of work and looked to someone or something else for inspiration. "Your bliss I am" and "Your joy I am" are declaimed by the chorus along with other words that expressed a search for personal enlightenment.
Haber's sound has been greatly influenced by the masters of minimalism and post-minimalism, Steve Reich and John Adams, with their accessible poly-rhythms (including a direct nod to Reich's Clapping Music) and tonal harmonies. The piece was successful in taking these ideas and adding a much greater dramatic arch. The work provided balance and tension that allowed the audience to delve deeper into the individual "mantras" and reflect on what inspires and gives us strength.
Many young artists need time to find their individual voices, which may appear at any moment or may take years of exploration and work. Haber and other young composers are tasked to find the sound that separates them from their peers and composers of the past. Hopefully, through their personal musical discoveries, more will begin to stand out from the many alive and working today."
The Pew Center for Arts and Heritage, 11/9/11
http://www.pcah.us/blog/entry/pmp-visit-to-the-sonic-festival-in-nyc-works-by-composers-under-age-40/
"Composer Yotam Haber gives Kasdorf's verse poignant musical expression."
The New Civil Rights Movement, 10/23/11
http://thenewcivilrightsmovement.com/review-five-borough-songbook-premiere-in-nycs-dumbo/news/2011/10/23/28165
"There were two other pieces I heard in the first half that were equally, and perhaps even more, stunning. The first was Yotam Haber's I Am, for string quartet and SATB chorus, combining the JACK Quartet and the New York Virtuoso Singers led by Harold Rosenbaum. It is based on a minimalist text (essentially "I am your" combined with seven words) by Agni Yoga. The string quartet part was mesmerizing, with the instruments dovetailing effortlessly amongst each other, giving the impression of swiftly flowing river. With this backdrop, the singers soared with energy. A truly wonderful performance."
Chamber Musician Today, 10/19/11
http://chambermusiciantoday.com/blog/posts/SONiC-Festival–Extended-Play-Marathon-at-Miller-Theatre/
"Others were eloquent in their capturing of multilayered New York moments. Israeli-born composer Yotam Haber crafted a postmillennial polyphonic spree out of Julia Kasdorf's setting of Psalm 137, making a sublime meditation out of On Leaving Brooklyn with unexpected turns—singers alternating the syllables in the line "my Babylon, my Jerusalem" created a fractured diaspora. Quick to follow was Christina Courtin's Fresh Kills, a touching pairing as Courtin herself gave a memorable performance earlier this year of Haber's New Ghetto Music. Here, her lullaby Fresh Kills was full of Miranda July-like charm and moody memory."
WQXR, Operavore, 10/8/11
http://www.wqxr.org/#!/blogs/operavore/2011/oct/08/song-city/
"MATA's artistic director Yotam Haber took some big risks and in general the gambles paid off."
MusicWeb International. 6/7/11
http://www.seenandheard-international.com/2011/06/07/new-yorks-mata-festival-2011-a-burst-of-blinding-clarity/
For "New Ghetto Music" he drew on the penetrating emotional delivery he heard on the tapes, combining it with modern orchestral techniques and a bracing rawness inspired by tenores vocal traditions from Sardinia."
New York Times, 1/14/11
http://www.nytimes.com/2011/01/14/arts/music/14round.html
"My description seems slightly inadequate to describe the shimmering, otherworldly sounds created by Yotam Haber, whose violin passages were being constantly altered by state-of-the-art software programs capable of subtly manipulating pitch and timbre."
MusicWeb International, 1/13/11
http://www.musicweb-international.com/sandh/2011/Jan-Jun11/MATA1301.htm
"Perhaps most unusual was Yotam Haber's The Gourmand's Lament, an encyclopedic dash through dozens of popular foods, then repeated at virtually twice its original speed."
MusicWeb International, 6/10/08
http://www.musicweb-international.com/SandH/2008/Jan-Jun08/AME1705.htm
"The music, which alternates furious outbursts of buzzing, densely packed oscillating figurations with passages of quietly astringent harmony, has a rock-infused wildness that the Flux players gleefully conveyed."
New York Times, 6/29/07
http://www.nytimes.com/2007/06/29/arts/music/29barg.html?pagewanted=print
"Yotam Haber's haunting piece "A Wine-Dark Sea," recently premièred at the MATA Festival, in Brooklyn, is based on classical Persian scales and melodies."
The New Yorker, 4/16/07
http://www.newyorker.com/online/2007/04/16/070416on_ross#ixzz260JP3awp
"The composer Yotam Haber did some fascinating musical digging while at the American Academy in Rome recently. He discovered rare recordings of cantors from the 1950s, and then incorporated some of the sound into musical works."
New York Times, 12/8/01
http://artsbeat.blogs.nytimes.com/2008/12/01/cantorial-chants-updated-for-the-21st-century/
Interviews:
http://www.thedaysofyore.com/yotam_haber/
https://docs.google.com/viewer?url=http%3A%2F%2Fwww.aarome.org%2Fsites%2Fdefault%2Ffiles%2FNewsletter_Spring09.pdf
Other:
http://www.tabletmag.com/podcasts/2725/bel-canto
'Konzert zur Einweihung': Yotam Haber FAAR'08 composes for architect Peter Zumthor RAAR'08
http://sofaarome.wordpress.com/2008/06/
http://acosoundadvice.blogspot.com/search/label/Yotam%20Haber